Our Team!
Andrew Howells
Designer
Andrew has an Electrical Engineering degree from the University of Victoria and has 10 years of electronics development experience.
Brad Velander
PCB Designer
Brad has over 30 years of hardware design experience and specializes in CAD/PCB and design support. He was Senior PCB Designer at NAT for 6 years.
David Klaver
Designer
David has over 10 years experience in avionics hardware and software design and was an electronics hardware designer at NAT for 5 years.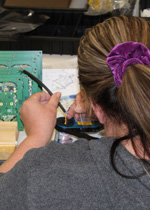 Jackie Sharp
Technician
Jackie is a skilled technician with 30 years of experience in all aspects of electronic assembly techniques. That includes 8 years at Northern Telecom; and 16 years at NAT, where she was production supervisor for 8 years. Jackie is shy so you'll have to visit our facility to meet her.
Margaret Brunsden
Technical Writer
Margaret is a qualified Mechanical Engineer and has over 13 years experience in technical writing at NAT. She is responsible for JAC's technical documentation.
Mike Humphreys
Senior Software Designer
Mike was responsible for key software aspects of NAT products and internal process control systems for 25 years.
Travis Teather
Mechanical Designer
Graphic Designer
Travis was an Opto-Mechanical Designer at NAT for over 11 years and had additional responsibilities as a graphic designer. He has recently received his diploma as a Graphic Designer.